Are you a remote worker who loves working from home but sometimes wishes you had an office with other like-minded colleagues? Or do you prefer to work at your local coffee shop, but find it hard to stay focused in such a public environment? If so, coworking spaces might be just the thing for you.
Coworking spaces are made up of individuals who all work remotely, whether that be freelancing, running their own business, or working for an employer. They provide an inspiring place to work with plenty of amenities and social opportunities that can help make remote work feel less lonely. Let's explore why coworking might be the perfect fit for remote workers.
Camaraderie & Collaboration
Working from home can feel isolating and lonely at times; having coworkers around can help combat those feelings. Also, if you're looking for feedback on any projects or ideas, chances are that somebody in the space has had similar experiences and can offer valuable insight or advice. Coworking spaces are a great place for networking, brainstorming ideas with fellow creatives, and collaborating on projects. You never know what kind of relationship could emerge from within a coworking space!
If you're like most individuals who now have a hybrid work option, you may have already built out a great home office (heck, our Community Development Manager did the same thing) but there's at least one or two times a week that its nice to have the opportunity to talk to someone besides your virtual coworkers or your pet. The benefit of being remote is that you can work anywhere and while working from home is amazing, having a community to join on the days you want, is truly the best of both worlds.
Professionalism
Having a dedicated workspace outside of your home is important to maintaining professionalism when meeting clients or having video calls. This is especially true in the age of Zoom where everyone is expected to look presentable during meetings (no more pajama pants)! Furthermore, many people find it difficult to stay motivated while working from home; having an office away from home helps keep them focused by separating their personal life from their professional life. Being in a coworking space also sets up expectations that your time spent there should probably be used for work-related activities -- no Netflix binging here!
Another need for a professional setting that we've seen is when a business has remote teams coming together for in-person meetings. While hotel lobbies sometimes have a dedicated meeting space or you hope to use the coffee shop but show up to find they don't have the tech or space you need, knowing that there is a space that exists JUST for your team to meet is a huge relief. On top of having dedicated space, being able to be somewhere that doesn't feel crowded or like an outdated boardroom is a perk for not only you but your employees.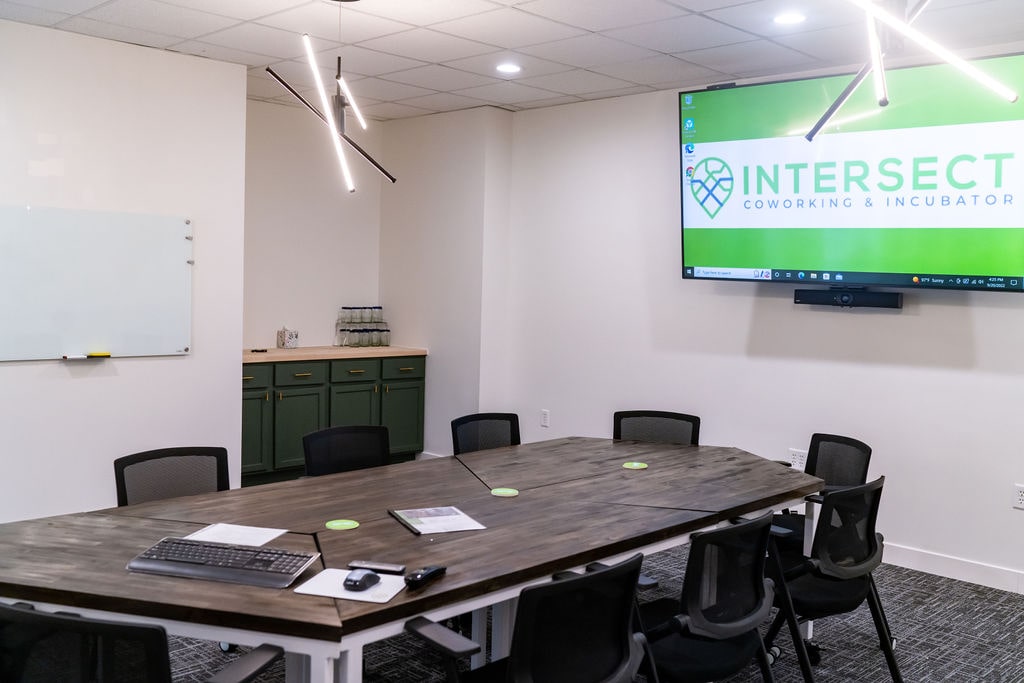 Amenities & Perks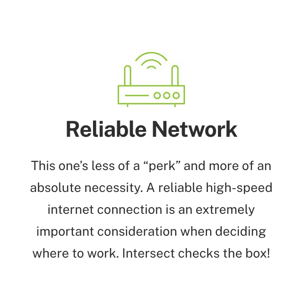 Many coworking spaces come with amenities like free snacks and drinks (hello coffee!), private meeting rooms, printer access (it's nice not having to pay for every page!), and 24/7 access! Often times these perks are included with membership fees so it pays off big time in the end!
The biggest pain point we've heard from our visitors is that the internet speeds and connectivity aren't always reliable when they stop at a coffee shop to work for the day. When they've planned the whole day around being able to connect to reliable wifi at the coffee shop and then show up and can't do that....the entire day seems wasted. That's why when we talk about internet speeds and connectivity at Intersect, we don't even consider it an amenity, it's a necessity.
One last call out that we've heard from visitors is that they love the printer access. When you pay your day pass or membership fee, you get printing included. That's color and black/white copies and an unlimited number of pages. No more are the days of worrying about running out of ink at home or forgetting to print off any important documents before your meeting.
Cost Savings
When you post up at a coffee shop, you're likely going to buy at least a cup of coffee - around here that's probably $3-5 per cup. If you follow the unwritten rules of coffee shop working, you also understand that small purchase gets you about 2 hour of guilt-free work time. Anything beyond that, people often make a second purchase or larger initial purchase, bringing the total closer to $15-20 for a full work day. So, estimating that you work in a coworking space 10 times a month, you're looking at a monthly cost of $150-200.
Our Day Passes start a just $15/day and memberships at $200/mo. Those costs get you 24/7 access, reliable internet access, and snacks not just coffee.
Give it Shot
Pardon the coffee pun, but instead of adding an extra shot of espresso to your afternoon latte, give Intersect a shot. For remote workers looking for something different than just working at home or at their local coffee shop, consider joining a coworking space near you! It provides a supportive community environment full of amenities and resources all tailored specifically towards helping entrepreneurs succeed in their business endeavors -- plus some perks too! With low-cost options tailored towards short-term needs as well as long-term solutions available depending on budget constraints, there's something out there perfect for everyone searching for more than just another workspace option among all these digital sources available today! So don't hesitate any longer—join Intersect today and reap all the benefits coworking has to offer!