Renovation Update
We are hard at work getting the space ready for members! Renovations started in February and are expected to wrap up in mid-July. Below are a few of the major updates we have worked through so far!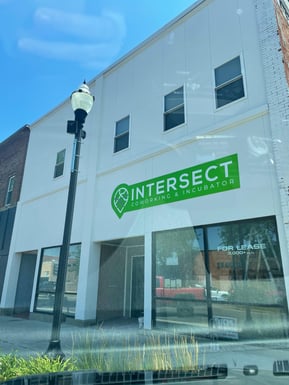 Facelift
The most notable update is that we have painted the front of the building! A refreshed new look includes whitewashed stucco and a bright new sign. This will make it easy for members to find our location (and get the best parking spot available!).
With a bright white exterior and nearly neon green sign, members can confidently invite colleagues and prospects alike to meet them at their new office space. Whether you're hosting an event or a quick meeting between colleagues, you won't have to worry about trying to explain how to find Intersect Coworking and Incubator.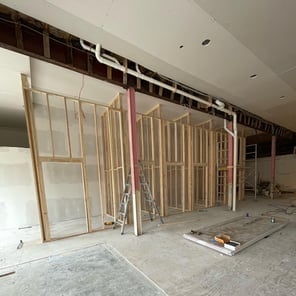 New Walls
While we're usually advocates for tearing down barriers in creating new business, we've added in walls for the six Private Offices and an additional set of walls for the six Micro Offices.
Each private office is roughly 5'x7' and will come with a sit/stand desk, ergonomic office chair, second monitor and keyboard/mouse pair, and a customizable locking door handle to keep your things safe and sound.
Micro offices are roughly 4'x4.5' and come with a 36" desk, stool, and customizable locking door handle as well.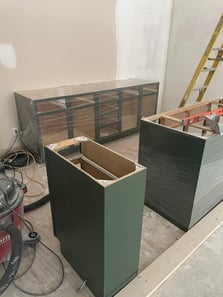 Want an island? We've got it!
This island might not be tropical and full of sand but it's sure to be the hub of tasty snacks and great conversations for members who need a break from their screens.
Community building is key in the coworking space, so we wanted to be sure to provide a fun environment to do so. The kitchenette area will feature a 9' island, open shelving, microwave, refrigerator, dishwasher, and a large sink.
Whether you're warming up lunch or grabbing a refreshing beverage after a long day, the kitchen area will be the perfect landing spot for you.
Questions?
We've got answers. If you're curious about opening dates, office availability or anything else, please click the button below!